This is my Pelican fact file screen cast
Last Thursday, my class tried ANZAC biscuits. They were very hard like rocks but they were surprisingly yummy.  When I tried them for the first time they tasted a little weird but when I took the second bite it tasted better but a lot of crumbs came out of my mouth! They tasted like coconuts and oats mixed together. Back in World War 1 in 1915, these ANZAC biscuits were made by the women back home because they could travel to Europe without becoming rotten. The soldiers enjoyed receiving these gifts.  ANZAC biscuits include coconuts, oats, butter, flour, golden syrup and baking soda. The ANZAC biscuits are round like a sphere and have little oats sticking out . The texture of the top of the biscuits was as rough as the bark of the tree. I can't wait for the next ANZAC day so I can hopefully try another ANZAC BISCUIT. !!!
Today I learned short cuts to move Tangram shapes to create an object. I made a Swan.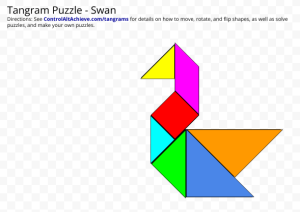 Last weekend St Patrick's celebrated our 175 jubilee and we also celebrated St Patrick's day at school on Friday. That was the start of the festivities.
On Friday morning I woke up very tired but then I remembered that today was St Patrick's Day, so that made me wake up easier. I started to get ready for school and when I was ready I went to school. After a while the bell finally rang, so my class washed our hands and went up to church. When we got there we went to sit down, and when I turned around there were alot of people waiting for the Mass to begin. We finally started church and started to sing some songs we had to practise for weeks before.
After church we went outside and we started to dig something up that had been buried for 25 years. Once we finally dug it up it was in a box, a very dirty box. We opened it up and there were alot of old pictures in it. Once we'd finished looking in the box we went back to our class. When we got back we started to do the normal things we would do until the bell rang for morning tea.
After morning tea the whole school went under the canopy and our principal called out our groups that we would be in since we were going to play some games. The group I was in was called the Celts and all the groups were Irish words.Once I got in my group we started to play some games. After we played some games we went back under the canopy and we were finally able to eat the popsicles that we had been waiting for since I was very hot.
On Sunday I woke up and got ready. I went to church since it was our parish's 175 jubilee celebrations. We started the Mass and one of the most amazing parts of the celebration was when this girl was sitting on this Tongan platform called a fata. She was also holding the bible. After the Sunday mass we went to the hall and sang some songs and also danced to one of the dances that we had to practise for many days. After my brother and I danced and sang some songs we went  home.
I really enjoyed this jubilee celebration.
We are learning to have a thorough understanding of the kawa of care.
Today my class was working with shapes one our chromebooks with one of our teachers Mrs Grant and before she left she said to make something on our chromebooks on a new slide and I made this house looking thing.
Today I made a poster about what the Trinity means to me.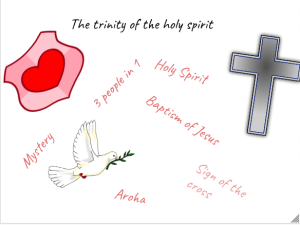 On one Wednesday morning we had a teacher come into my class her name is Mrs Grant. She was teaching the year 5's some new shortcuts and the year 4's how to get better at using the touch pad. Since I am a year 5 I had to do the shortcut one which was actually quite hard to do since we had to keep finding the different shortcut. Since I was struggling with my work I had to keep asking my friends what the answer was since I was terrible at it. Some of the new things that I learned were shift ctrl + and shift ctrl – which is used to zoom in and out. With practise I am sure I will improve.
Kia ora! My name is Olivia, I go to Saint Patrick's School. I am in Year 5 and my teacher is Mrs Agnew. My favourite subject is Writing and maths and I enjoy learning new words and learning my times table.  I am good at swimming and helping people.  My goal for this year is to get better at maths . In my spare time I like to watch movies,draw and sometimes read.
s
Today i was looking at some maiaiakalani movie and reviewing them and this one was my favorite and reviwed and if you want to watch it here is the link.